KEEP THEM COMING BACK
BUILD A BRAND THAT STANDS OUT AND KEEPS YOUR AUDIENCE ENGAGED
WE USE STRATEGIC PLANNING TO BUILD POWERFUL BRANDS.
Personal Branding is way more than a fancy logo or choosing a color palette - and it's also much more important today than it's ever been. Branding your business is about having a clear mission and message. It's having a deep understanding of who your ideal customer is and how you can serve them. Your brand needs to connect and convert.
That is why our focus is on building intentional brands with strong passion and purpose.
​
Our web design services range from web strategy and development, to logo design and brand mood, to internet marketing and beyond. We are here to make your life easier while bringing your vision and mission to light on the web.
WEB DESIGN SERVICES INCLUDE
BRANDING
​
Brand Vision + Style
​
Brand Development
​
Logo Design
​
Naming
​
Copywriting
​
Brand Photography*
MARKETING

Digital Strategy
​
Consulting
Search Engine
Optimization
​
YouTube Creation +
Optimization
​
Social Media Design
​
Blogging
WEB + DIGITAL
Web Design +
Development
​
Membership Sites
Product Launch
Support
​
Domain Connection +
Support
FREQUENTLY ASKED QUESTIONS
Apa itu waitlist challenge?
---
Sebuah periode di mana kamu berkesempatan untuk mendapatkan akses eksklusif lebih cepat ke aplikasi Nanovest, dan juga mendapatkan rewards yang menarik! Kamu bisa menang 100.000 NanoByte Token (NBT) dalam periode ini. Kunjungi nanobytetoken.io untuk pelajari lebih lanjut mengenai NBT.
---
Apa itu NanoByte Token (NBT)?
---
NBT adalah crypto token dari Nanovest. Kamu bisa dapetin NBT dengan download Nanovest & ikutan waitlist challenge. Selain itu, kamu juga bisa dapet NBT dengan ngelakuin berbagai aktivitas dan transaksi setelah kamu dapat full access ke semua fitur di Nanovest.
---
Kapan saya bisa mulai investasi saham & aset kripto di Nanovest?
---
Saat ini, aplikasi Nanovest sedang dalam rilis terbatas. Kamu bisa mulai investasi setelah kamu dirilis dari waitlist. Kami akan memulai proses rilis pada 10 Desember 2021. Semakin tinggi posisimu di waitlist challenge, semakin cepat kamu dirilis & bisa menikmati seluruh fitur di Nanovest! Ayo download Nanovest & join waitlist sekarang dan jadilah yang pertama untuk nikmati semua fiturnya!
---
Apa itu Nanovest?
---
Nanovest adalah aplikasi investasi revolusioner di Indonesia. Di sini, kamu bisa investasi saham luar negeri & aset kripto dalam satu aplikasi, pertama di Indonesia. Selain itu, kamu bisa transfer uang gratis ke siapa pun & kapan pun! Semua investasi di Nanovest mulai dari Rp 5ribu aja, bebas biaya transaksi, dan tentunya gampang banget. Kamu juga bisa dapetin berbagai hadiah menarik, mulai dari uang, aset kripto, dan masih banyak lagi. Jadi, yuk download Nanovest & ikutan waitlist sekarang!
---
Sampai kapan waitlist challenge akan berlangsung?
---
Waitlist challenge dimulai pada 22 November 2021 dan akan berakhir pada 10 Desember 2021.
---
Apa yang terjadi ketika saya masih berada di dalam waitlist?
---
Kami berusaha keras untuk menghadirkan Nanovest secepatnya kepada kamu. Kami akan merilis semua user secepat mungkin, dan tentu saja kamu akan diberi tahu jika sudah dirilis! Penasaran dengan aplikasi Nanovest? Yuk, intip lebih lanjut di bagian "News" di halaman Utama aplikasi Nanovest
---
Bagaimana cara kerja waitlist challenge?
---
Setelah kamu daftar ke Nanovest, kamu bisa lihat posisimu di waitlist / daftar tunggu. Ajak teman ke Nanovest sebanyak-banyaknya pake kode referral kamu. Saat temanmu daftar ke Nanovest pake kode referralmu, posisimu di waitlist akan naik. Kamu dan temanmu juga akan dapat masing-masing 20 NBT.
Selain itu, kamu juga bisa menang 100.000 NBT tergantung dengan posisimu di akhir periode waitlist challenge (lihat tabel di bawah):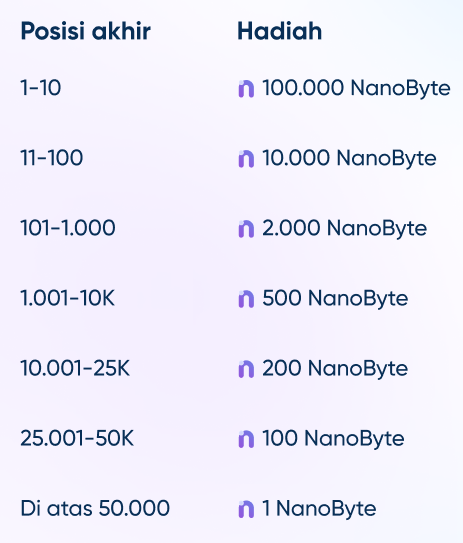 ---
---
BRAND CONSULTING
STRATEGIC CONSULTING TO HELP YOU GROW YOUR ONLINE BRAND
​
One-on-one consulting with Jennifer and Christine, the head designers and creative partners, to help you break things down, gain clarity, and give you an action plan to take your brand to the next level. These sessions are for the entrepreneur who is ready to take action! Sessions include a 60-minute zoom call, a personalized action item list, and additional email support.
​
Together, we'll assess your online business to identify what's working, what's not, strategize ways to further develop and refine your digital brand, and give you a tailored action item list. Our web design services include; visual branding, messaging, web design, online marketing and social media, product-positioning, list building, opt-ins and funnels, developing processes + systems, outsourcing, and more.
​
Book your strategy session below!
​
* We are temporarily extending a special offer for small business relief efforts until further notice!
​
$197 $375